One fashion week is done, and the next one begins. Normally, London doesn't interest me too much, which means this week I won't feel so overwhelmed every time I go online to try and play catch up with new collections and runway pictures. I've still got some shows I'd like to talk about (like Rad Hourani
; so gorgeous!
), but that can wait. For now, let's have a look at what other fashion bloggers have to say about NYFW.
I love
Sans Artifice
, a far more eloquent blog than mine.
Here
, Sans talks about Preen;
"The cutouts and sheer overlays do add provocative element of danger to the mix - the Preen girl may party but she's no pushover, every peak-a-boo packs a punch."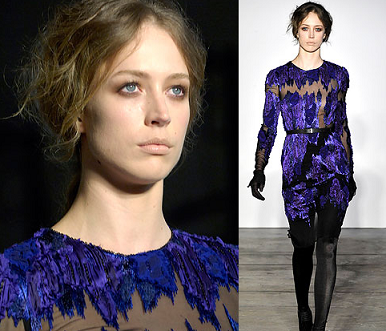 Balmain Bazaar
admires the delicate sleeves and shoulders at Monique Lhuilier. If you think you might like shredded material against the skin, but want to see it done more elegantly than what's been circulating in fashion blogs lately?
Have a look
!
Sheer fabrics and cut-outs will likely become a big trend in the months to come. While Proenza Schouler didn't wow me as much as it normally does, there were a few pieces in the collection I absolutely adored.
Susie Bubble
was at the show, and had a
closer look
.
I've been stumbling across a magnitude of great blogs the last week.
Keep Feeling Fascination
is new to me, and I love Joanna and her style of writing. The girl seems to have a thing for shoes, which becomes evident in
this post
, where she talks about lace-up boots, and
here
, commenting on the shoes at Proenza Schouler.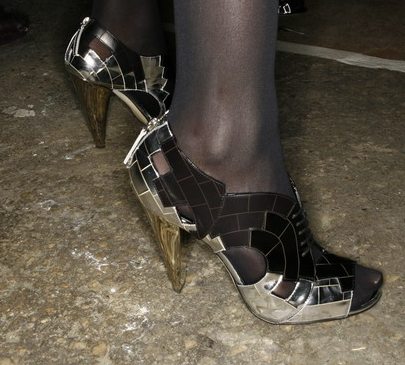 Backstage pictures are always a good way to find alternative views of runway looks. I've been searching for better pictures of the shoes at
Thakoon
, and found a nice shot at
Sonnyphotos
. Aren't these shoes killer? They remind me of disco balls, in the best way possible.
While I've mostly been talking about younger and edgier collections, Kimair at
J'adore Couture
takes a look at some of the more
classical designers
New York has to offer; Tommy Hilfiger, Isaac Mizrahi and Calvin Klein.
Let's polish this off with some shoes fit for a Queen. While I don't know for certain that these are all Louboutins, they do look the part.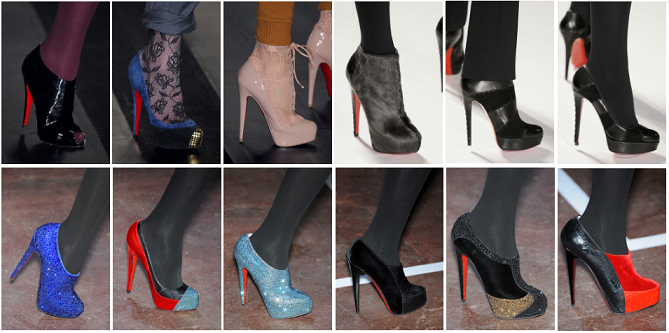 Top left; 3.1 Philip Lim / Top right; J Mendel
Bottom row; Jonathan Saunders