Is New York Fashion Week more interesting this season, or am I just paying more attention to it?
Let's jump straight to the pictures. Lots of black and grey, and lots of tiny little dresses this time around. The runway looks I've chosen to post are personal favourites, and not really the best representation of the whole collections.
First up;
Alexander Wang
.
I'll be brief, as this collection
has
been
talked
about
everywhere
already
. I enjoyed it much more than I'd expected to, and I actually didn't mind those biker shorts too much. Is Wang growing up?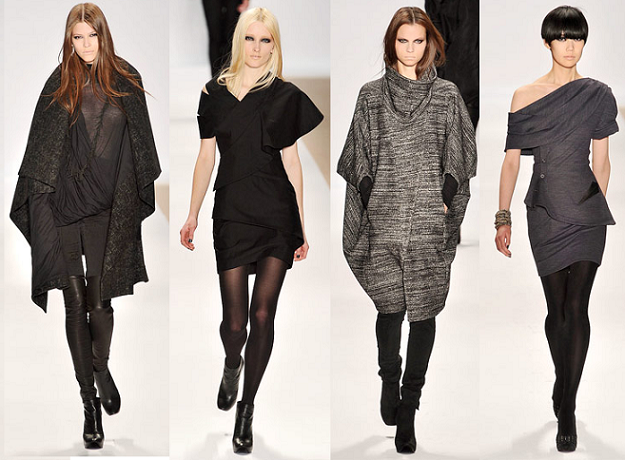 Yigal Azrouel
was a positive surprise.
Slightly more relaxed than the other collections in this post, though there were plenty of nipped waists and tight leggings/pants. I love the emphasis on the shoulders, something I've been seeing all over the New York runways.
One of two favourites so far is
Ohne Titel
.
The colours, the plays on texture, everything is the way I like it. Add some delicious shoes to the mix, and I'm sold!
And finally, there's
Hervé Léger by Max Azria
. Sure, you might call it repetitive, but I think he's found a great way of staying true to the trademark bandage dresses while renewing the look just enough every season. Mmm,
the shoulders!
Ugh, so much catching up to do. Right now I'm patiently awaiting good pictures from Rodarte, which looks promising so far.
Got any New York favourites yet?