Paris Fashion Week is finally upon us, and some of the most anticipated shows are already over.
While I really enjoyed the new Balmain collection, I expected to be a little bit more
wowed
. Sure, I would be ecstatic to wear any of the looks, but I'd also love to be surprized when viewing a new collection.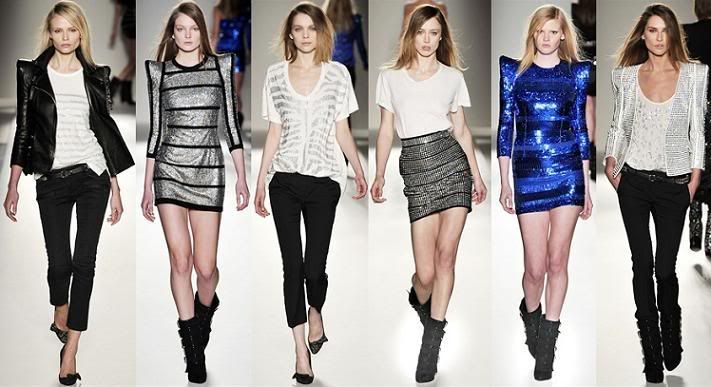 This is the season where so many collections remind me of SS09 Balmain, but Balmain itself turns out to look the most similar. The silhouettes are slightly sharper than in the spring collection, the pants are variations of trousers instead of jeans, but otherwise there's not much new. Balmain isn't moving forwards, and I guess I can understand why. With all the fashionista fans designer Christophe Decarnine have right now, he might find it hard to move away from the formula that's working so well.
Still, I won't complain too much. I find this quote from
Luxx
describes my feelings towards Balmain very well:
It's the same crap different day but there is something so completely wonderful about it. The Balmain girl is just...well she's a girl I enjoy. She's one of those cigarette smoke scented, slightly drunken party girls whose skirt is too short and she's not wearing undies. She's this brazen almost unhinged creature high on money, low on class and yet irresistible.
Then there's Balenciaga. Those who expected this to be as futuristic as ever are sorely disappointed. This time around designer Nicholas Ghesquiere got his inspiration from YSL, and used prints from the Balenciaga archives.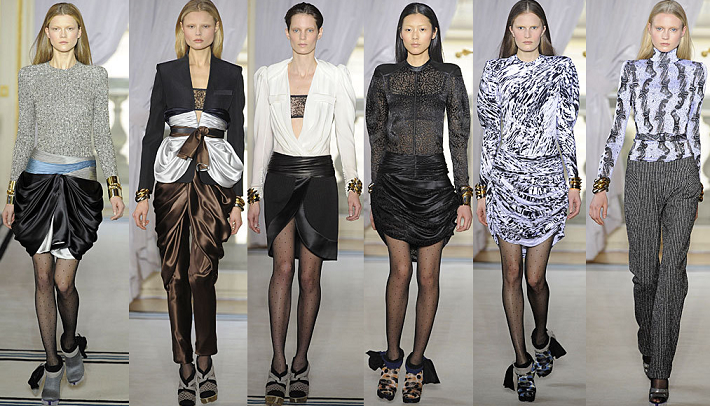 While I understand the whole disappointment over the lack of futurism, and I get how this doesn't scream Balenciaga, most of it is actually really pretty. I even like or tolerate the majority of the flowery prints that were used. It seems like Ghesquiere is playing it safe, designing much more wearable clothes than normal, and this might or might not have anything to do with the current economy.
Actually, the more I look at it, the more I enjoy it. The mood is relaxed and grown up, there's enough detail to keep me interested, and the colour scheme is particularily pleasing. I love the draped pants and skirts, and as usual I can't wait to see the shoes from a better angle!
Pictures from catwalking, via the Fashion Spot.